NYC terror suspect Sayfullo Saipov: Who is he?
close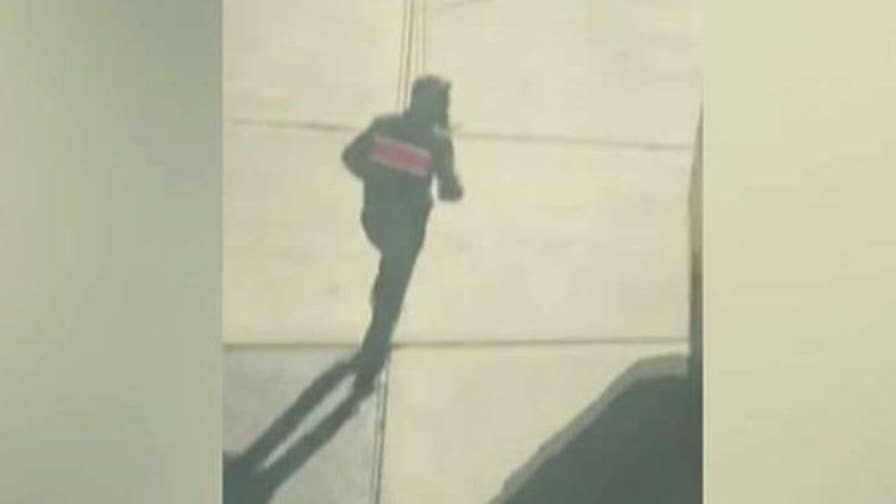 Shepard Smith reports on 'The Story.'
The man suspected of plowing a truck through a crowded bike lane in New York on Tuesday is 29 years old, from Uzbekistan with a green card, Fox News has confirmed.
Police have identified Sayfullo Saipov as the driver of the rented pickup truck who killed eight people and injured at least 11 more in the attack in near the World Trade Center in Lower Manhattan.
Saipov drove a rented pickup truck from Home Depot through a crowded bike path for several blocks before finally crashing into a yellow school bus near Chambers and West Street, police said.
After exiting the vehicle, Saipov yelled "Allahu Akbar" and waived around some type of weapon, which authorities believe to be an airsoft gun or a B.B. gun. The suspect was shot twice by police and taken into custody. He remains in the hospital and is expected to survive his wounds.
NYC 'TERROR' ATTACK LEAVES 8 DEAD, SEVERAL INJURED
Evidence found in the truck suggested that Saipov pledged his allegiance to the Islamic State of Iraq and Syria, according to reports from the New York Post.
Law enforcement officials reportedly discovered handwritten notes and some type of symbol or picture of the ISIS flag in the truck. The notes they found, written in Arabic, indicated that he pledged his allegiance the terror network.
According to the Associated Press, the suspect is believed to have rented the truck about an hour before the attack.
Authorities discovered that Saipov had a Florida license and he's been connected to an address in the Tampa area. But he was living in New Jersey as recently as this summer and working as an Uber driver, a friend of Saipov told Fox News.
POLITICIANS REACT TO FATAL NYC TRUCK ATTACK IN LOWER MANHATTAN
The friend, Kobiljon Matkarov, said he met Saipov while the two were living in Florida and described him as "very friendly" and "very nice."
Matkarov said he last saw the suspect a few months ago when Saipov picked him up from John F. Kennedy Airport in New York. Saipov had moved to the area in order to find better work opportunities.
Matkarov told Fox News that he never noticed any unusual behavior from the suspect, let alone the fact that he'd been radicalized and that he was generally a happy-go-lucky person who loved America.
"I know his good side. I know nothing of his bad side," Matkarov said. "He was always happy. He liked the U.S. He loved this country. That's why this is all very confusing."
Uber did not immediately respond to Fox News' request for comment.
Fox News' Perry Chiaramonte and The Associated Press contributed to this report.