Swansea sack Paul Clement but hope to appoint successor in next 24 hours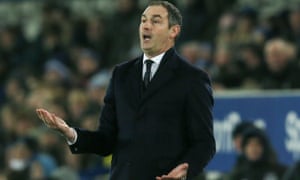 Swansea City
Swansea sack Paul Clement but hope to appoint successor in next 24 hours
• Welsh club sit bottom of the Premier League after string of poor results
• Board hope to get new manager in before Saturday's game with Crystal Palace
Swansea City are looking for their third manager in less than 12 months after Paul Clement was sacked. The club's American owners decided to part company with Clement after losing faith in his ability to engineer a turnaround following a dismal run of 10 defeats in 13 Premier League matches that left Swansea anchored to the bottom of the table and four points adrift of safety.
It is understood that Swansea have a replacement for Clement lined up and hope to have him in place before the critical home match against Crystal Palace on Saturday, with an announcement anticipated within the next 24 hours. Clement's successor is expected to have Premier League experience, although there is no suggestion at this stage that Tony Pulis is in the frame.
The timing of the decision to part company with Clement comes as something of a surprise, not least because all the indications were that he would remain in charge for the Palace match and that Swansea's majority shareholders, Steve Kaplan and Jason Levien, wanted to try to give the 45-year-old the January transfer window to strengthen a woefully ill-equipped squad.
Paul Clement vows to fight for Swansea City job after defeat at Everton
Read more
Swansea's owners are acutely aware that the club's recruitment was desperately poor in the summer, yet they also came to the conclusion that Clement was not capable of leading the team out of trouble and, with a busy festive programme coming up and the vital game against Palace on the horizon, were not prepared to wait any longer before acting.
Although Swansea have struggled badly this season and Clement has not helped himself at times with his overly cautious tactics, the decision to dismiss him feels harsh in some respects. Appointed in January, Clement managed to keep Swansea up against the odds last season, collecting 29 points across 19 games to lift the club away from the bottom of the table, and ended up being nominated for the Premier League manager of the season award.
Clement's biggest gripe, however, is likely to be in relation to summer transfer activity. Swansea sold their best two players, Fernando Llorente and Gylfi Sigurdsson, and never came close to replacing them as they finished the window with the lowest net spend in the Premier League. In many ways the seeds were sown then for the abject season that has followed.
"To change the manager, especially at only the halfway point of the season, is the last thing we wanted to do as a club," Huw Jenkins, the Swansea chairman, said. "We had three different managers last season and as a result we all wanted to give Paul as much time as possible to turn things around. But we felt we couldn't leave it any longer and needed to make a change to give us the best chance of an uplift and a turnaround in fortunes with the club bottom of the Premier League.
"Paul has been at the club for 12 months and what he achieved in the second half of last season to keep us in the top flight was a tremendous feat. For that, and his effort and commitment this season, it goes without saying that the club thanks him for his work, together with Nigel [Gibbs] and Karl [Halabi].
"I have had an excellent working relationship with Paul and we are all, including the owners, surprised and disappointed it hasn't worked out this season."
Topics